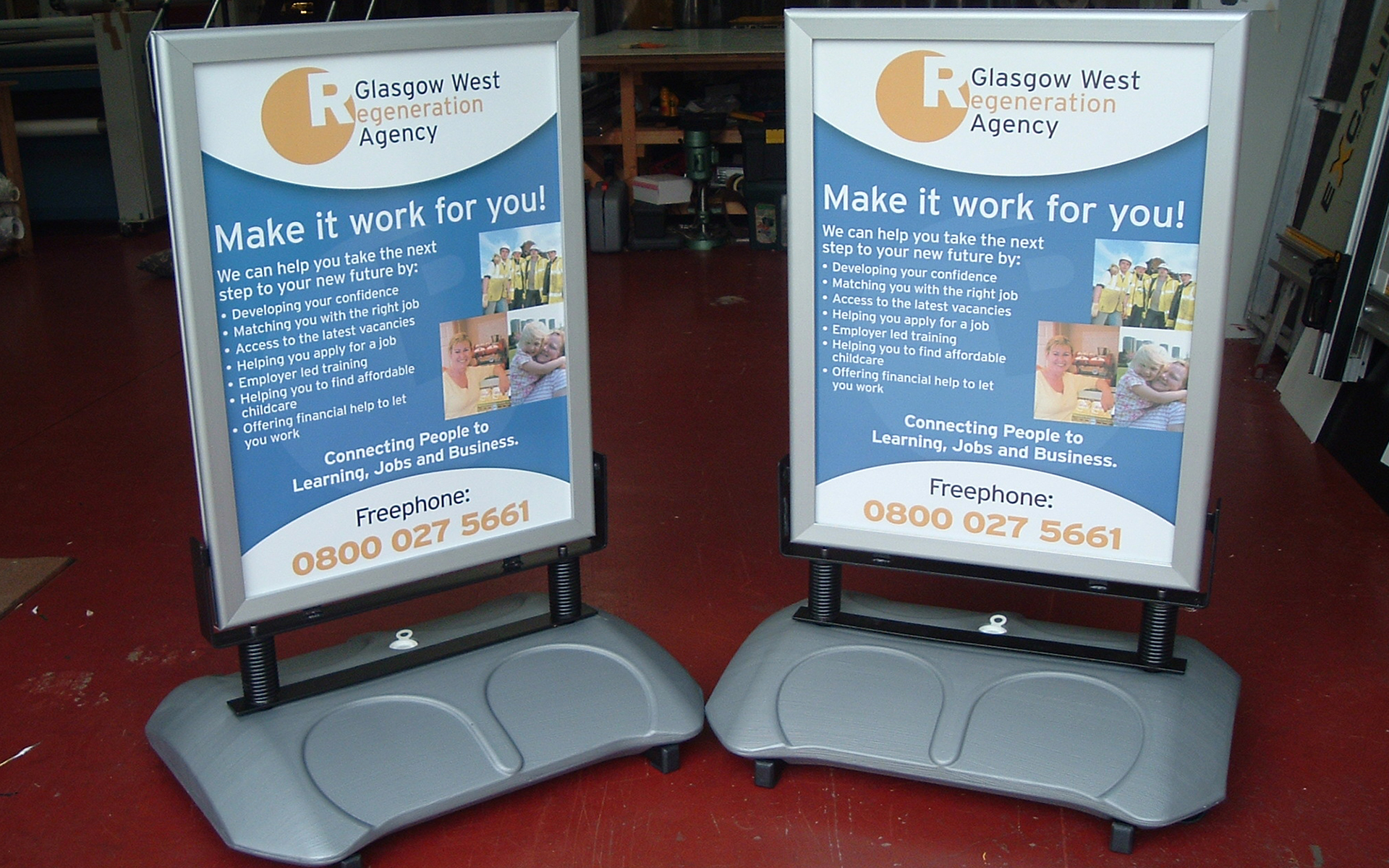 Pavement Signs
Outdoor pavement signs are a powerful advertising tool.The majority of purchase decisions are made in­-store. So attracting customers into the store is key for retailers, and nothing does that better than targeted high impact pavement sign advertising outside your shop front.
Double sided A1 Pavement Signs
Designed to endure the all too frequent windy and rainy days we experience in this country. It's tough exterior incorporates steel springs to prevent the sign from falling over or moving in strong winds. That, coupled with a modern design and the popular freestanding water filled base, makes it perfect for outdoor display stand.
Swing Signs
Built for Irish weather. Get round-the-clock brand advertising and improve your company's brand awareness with pavement signs, ideal for displaying tactical and promotional messages.
Eco Café Barrier
Eco Cafe Barrier is a cost effective way of defning areas outside restaurants, bars and shopping centres.
Benefits:
Quick and Easy to assemble
Sold as individual Components
Black finish
Heavyweight post and base
Various Sizes Available
Crowd Control Barriers
Choose from a range of FixedPavement Link or Variable Link Crowd Control Barrier systems. Easy to extend, easy to configure.Ideal for tradeshows, reception areas, hotel foyers as well as exhibits and museums.
Roscommon Signs supplies a range of customised, pavement signs these include:
A Boards with weight water or sand stands
Interchangeable Poster displays
Double Sided Swing Signs
Chalk Boards
Contact Roscommon Signs Today To Discuss Pavement Signs Needs.
P: +353 (0)90 662 5849, +353 (0)86 837 9821
E: roscommonsigns@eircom.net
---